Breastfeeding I like to think is like an obstacle race.

You go through mazes of confusion, jump over hurdles you never imagined occuring and still come out smiling and continuing to nourish your baby.

If anyone deserved a medal, it should be moms.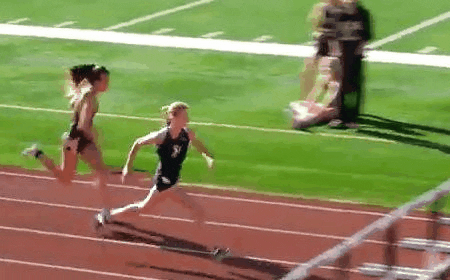 Here I'm going to touch one of those hurdles that is almost unheard of and very barely talked about: the distraction phase.
Yep, remember those days when you could feed your baby anywhere, anytime, any place?
Thanks to this hurdle in particular, lots of moms may end up giving up on their breastfeeding journey, may believe that their baby is self weaning and even going through a nursing strike.
Without further ado, let's go into the basics
When does distraction happen?
Distraction usually occurs in a breastfed baby around the 5-6 month mark. Why? Because this is a stage in which your baby really starts to spend more time awake and starts to get interested in everything that surrounds her.
The age I just mentioned is just an estimate as obviously every baby is different and develops at different paces. Mine for example, has always been a very awake baby, somewhere around the four month mark she really started to want to see and touch EVERYTHING.
Why does distraction happen?
First and foremost, we may as well get into understanding why this breastfeeding phase occurs before we decide what the heck we're going to do about it.
Well, that said – distraction is actually normal and a sign of healthy development in your baby. It means he's more tuned into his surroundings, understanding words, syllables and gestures.
He needs to know what's happening
In fact, it's not just that he's interested, he absolutely has to know what's going on to be at ease and be able to nurse.
Usually this phase doesn't last very long, but having experienced it myself I know how tough it can be when baby latches on and off and doesn't seem to be nursing at all.
Remember that your little one can now nurse in a much shorter time and still gets all he needs. Watch for these signs to assure you that your baby is doing just fine:
You still feel your breasts fill up and empty during the day
Your baby still drains your breasts after you have a let-down
Baby has regular poops – around 1-2 a day
Baby is still gaining weight
What can I do to help my baby nurse?
If you're feeling exhausted from the on-off constant nursing sessions – and trust me, not only have I been there but I'm STILL there, you might want to read the following tips that I've found really useful.
1) Talk to other moms
Support. Support. Support.
If you've read any of my other posts, you'll notice a pattern emerging here.
Literally I can't insist on this enough and that's why I've put it in first place because I believe that it's the basis of every difficult hurdle to pass and the only way to get through it.
You can try and find a breastfeeding support group in your area, the LLL has groups all over the world from city to city so you'll most likely find one near to you.
My town also provides support in Lactation Consultants, I have the number on the fridge if I ever have a question I need to ask.
Breastfeeding is particularly challenging in the fact that sometimes it's just about guess work – we're no longer living in the times where women were told to feed their baby every four hours and drain each breast at a time.
Follow your motherly instincts
Sometimes we have to follow our special motherly intuition, though muted a little by modern society, if we root around we can find it and listen carefully.
That's where other moms come in because chances are if one mom's been through it, she'll pass on her advice to you and so fourth.
You can usually find other moms in mother and baby classes, maybe you made friends during your pregnancy at prenatal classes.
There's always the option of finding and joining an online community too – Baby Centre is a good one, I joined when I was pregnant and I find the week-by-week information sent out to me really interesting and helpful.
2) Be a team, respond to your baby
What I mean by this is listen to your baby and their cues. Nursing really doesn't last a life time so enjoy those precious cuddles before she'll want to wriggle away from your grasp.
If you sense your baby starting to get agitated, change position or place in which you feed until you find something that works.
Usually the distraction phase is just that – a phase you gotta work through together.
The Leche League says that often the fleating nursing sessions are part of baby's development as she discovers the world, she needs to come back and connect with you – her number one sense of security.
I know it's easy to get frustrated. But the more you do actually get yourself worked up that nothing is working, the more she will sense that and be less likely to calm down and nurse.
Remember that nursing is also cuddle time for her – a moment in the day where she gets you – busy mom, whirlwinding around the house, all to herself.
The mroe you respond to those needs, the more confidence she will have as she grows up.
3) Plan around nursing sessions
Usually the main problem us moms are having is when we're out and about and baby just won't nurse.
One way you can avoid this frustration from happening is to try and nurse before you go out.
If you don't have time or baby is just not hungry, try and predict when your baby will next need to nurse and work around that. You can return home that time or go somewhere a little private.
Ask your friends for a place by yourself
Often what I've done is excuse myself when at a friend's house, gone in a separate room and talked softly to her.
Luckily, if you've already started solids you have a little advantage in this area too – I bet baby would be more willing to have a few bites of banana on the go?!
4) Reduce distractions
Seems kinda obvious and I bet you're already doing it, but try and reduce to a minimum anything that could distract baby from latching on.
This might mean dimming the lights, drawing the blind – the less baby can see, the less she can play with.
If you usually try to do something simultaneously, try and save it for later. This might mean that checking your emails on your phone might have to wait 10 minutes or pressing pause on your favourite program.
Something I find works a treat with my little girl is eye contact.
If I can get her to focus on me making some silly faces, she's more likely to latch on well, and stay latched.
5) Change it up
I know, I did say that the most part of your nursing sessions you should try in a familiar place, with familiar surroundings.
That said, if something isn't working, don't be afraid to change it up and try something new.
One of the biggest things you can try, which the group of women from my local Leche League recommended me is to nurse in a swing.
Unfortunately I haven't quite mastered the technique yet.
But you can! In fact, I think it's time I re-watch the video tutorial with you to see exactly how it's done:
Yep, now I've got it. Have you?
Something I've also tried is cradling my now 8 month old in my arms and getting her to latch on that way – you'd be surprised at how much easier it is when they're not tiny anymore!
Then I'll walk around gently with her or bounce or swing. Try these motions out with your baby, find what works for her.
6) Other tips
Skin to skin contact is not just a thing reserved for newborn babies. In fact, I like to do it when my baby is especially wriggly and agitated. Just the smell of mom's milk can help baby reconnect to you and your breast.
You might want to try this during the afternoon at nap time or when you have some free time – the idea is not to put pressure on baby to drink, but allow baby to be curious and find you.
Plus it's a great comfort for you both. Another thing to try is catching your little one during the times he's most likely to feed – this could be when he's waking up, for example, as he'll still be a little drowsy or putting him down for a nap.
Now I know there is a lot of controversy about putting your baby down on the breast – I personally believe that there is no harm in nursing your baby to sleep. I have a delightful, calm baby because of it.
As Kellymom writes:
You are not a pacifier, you are a mom. You are warmth, security, the deepest aspect of the meaning of comfort…but you are not a pacifier!
Ultimately, you do what works for you – remember that night feedings are completely normal and can continue until the age of 2.
That's because babies who are distracted during the day actually get a lot of their calorie intake in during the night.
I know for sure that my girl can sleep without me too (though probs not putting her to bed at night) and that's most likely because of all the reassurance that I've given her until now.
Don't worry, be happy
Breastfeeding in it's highest moments can make you feel super connected to your child and a little like a superwoman….and in it's lowest moments can be, well, a little exhausting.
Us mamas have a whole lot of stuff to worry about and responsibility on our shoulders…we don't need to add even more worrying to our load.
Don't be too hard on yourself
So my greatest advice is take it easy, see if you can get a break from your breastfed baby, maybe pump and dump a little or do what you need to do again to feel good about yourself.
It can be very hard to continue to breastfeed when you feel like you have a little creature attached to your body, constantly.
Don't let this phase of breastfeeding get you down and prevent you from going places and seeing sights you want to see – it might do the two of you some good to shake up the routine a little!
All I'm saying is, it doesn't last as long as you think…your babe will grow up fast and you'll look back and remember fondly the days where you tore your hair out trying to breastfeed him while trying to actually maintain a conversation.
Moms out there, is there anything that worked for you? Leave a comment below, let's help each other out.